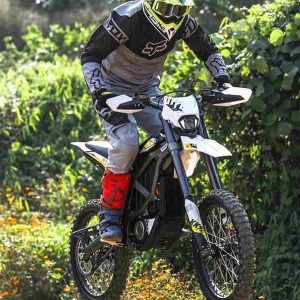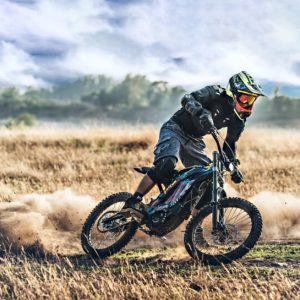 Which bike should I go for, the Surron LBX or the Ultra Bee?
It really depends on whether you want a lightweight trail bike with the LBX at 47kg or a heavier 88kg more powerful machine which caters more to dirt riders with better ergonomics. The LBX being a lighter, smaller bike is easier to transport, with a similar weight to a mountain bike when the battery is removed, making it ideal for motor homes and camper vans.
While the Surron Ultra Bee is not a full sized dirt bike, it is still incredibly agile with a speed of up to 55mph, a great option for motor cross tracks or serious trails compared to LBX of speeds up to 45mph.
The Ultra Bee comes with 12.5KW of peak power which is double that of the smaller Light Bee 6KW, while the Light Bee is still incredibly nimble and great fun.
The Ultra Bee is utilising a 74v 55Ah battery, charging in 4 hours with a separate charger which can be stored under the seat of the bike, allowing riders to charge their bike wherever electricity is available. The LBX is utilising 60v 40AH, with a similar charging time of approximately 4 hrs.
Surron is claiming a range of 85 miles on the Ultra Bee compared to 60 miles on the LBX.
The Ultra Bee is suspended by a fully adjustable fork and shock, offering 9.4 inches of travel, front and rear.
The Ultra Bee has full size dirt bike brakes and a fully optimised lightweight breaking system which is superior to the LBX.
The Ultra Bee is taller, with a seat height of 35.8 inches which works better for taller riders, plus a full size seat, full size fenders, hand guards and a more robust skid plate.
The Ultra Bee has traction control and regenerative settings so riders can change their settings within the display unit in front of the handlebars. It's also got more ride modes than the Light Bee, offering a switch on the handlebar that can select eco, daily, sport mode, and reverse.
The Ultra Bee Off Road is priced at £6,299 and Road Legal £6,699, the Light Bee Off Road is priced at £4,695 and Road Legal £4,995, available to Test Ride and in stock at www.motoebikes.com